A lot of comics readers rag on superheroes.   They're bland and unoriginal.   They're just for kids.   Every story has already been told.   I've heard all the criticisms, and some of them may have a degree of merit.   But still, I personally love the genre, and can't get enough of it.   Where some see a story that's been done before, I see variations on classic themes.   And while some say superheroes should be left to Marvel and DC, I say it's all in the execution, and a quality indie superhero comic is as worthy of praise as a story in any genre.   So, while there are a good few tropes in Abyss: Family Issues #1 that you've seen before, it's still a worthwhile read, because in the execution, it manages to entertain.
Abyss: Family Issues, by writer Kevin Rubio and artist Alfonso Ruiz, tells the story of Eric Hoffman, the teenage son of a notorious supervillain who is trying to repair his family's reputation by becoming a superhero, with little success.   Rubio does a commendable job of quickly making Abyss a likable hero, and has a good handle on his voice, as well as garnering some laughs from his ineptitude, and his interactions with R.E.D.S., his deadpan robot sidekick.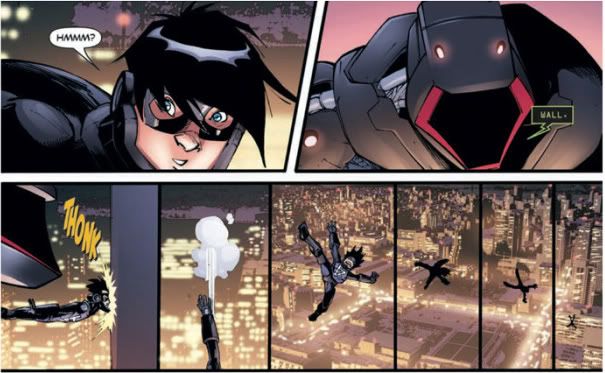 Even more enjoyable are the cadre of oddball supporting characters that populate this world, including short-tempered superhero patriarch Mr. Magic (who spends much of the issue marching around naked), eager-beaver method actor Rick Gauge (who spends the entire issue crossdressed in superheroine Quiver's skimpy cheesecake outfit) and the real Quiver (named Blair Butler, presumably as a nod to G4's popular comics reporter), who earned her heroic status by winning a reality TV show.   This blending of superheroes with celebrity culture is something I think is really interesting – I explore it myself quite a bit in The Standard – and Rubio gets good mileage out of viewing superheroes through this fondly satirical lens.
Alfonso Ruiz's art, meanwhile, is the perfect complement to Rubio's offbeat, witty writing, with stylised character designs that fall on just the right side of cartoony.   Ruiz has a great skill for getting laughs from the quirks of facial expression and body language, evident right from the front cover.   Aided by Garry Henderson's vibrant colors, the comic's visuals help to give the narrative a fun, breezy atmosphere.
Issue #2 and #3 are also available, as is the original Abyss series (now collected as a graphic novel), so if this first issue captures your interest (and with the intriguing hook the first issues concludes on, that's likely) there's more story waiting for you.   If, like me, you like superheroes, then I'd say that Abyss: Family Issues is a worthy addition to the canon that's definitely worth a look.
***
Writer: Kevin Rubio
Artist: Alfonso Ruiz
Colorist (interiors): Garry Henderson
Colorist (cover): Andrew Crossley
Letterer: Troy Peteri
Editors: Paul Ens and Scott Chitwood
Price: $3.50 print/$1.99 digital
Synopsis: The acclaimed superhero comedy is back. Eric Hoffman took over his father's fortune, lair, robot, and Abyss costume, but he can't shake the super-villain legacy. But now it's the scandal on his mother's side that's going to rock the hero community and life as Eric knows it!
Abyss: Family Issues #1 is available digitally from Comixology and in print from selected comic stores.
Related Posts:
Category: The Creator-Owned Zone